Vision
To enable people to walk in their purpose and fulfill their destiny.
Mission
We endeavor to serve our community of partners through connections, networking, educational workshops, motivational and inspirational talks to discover and live out their purpose. We strive to create experiences where passion encounters purpose.
Values
Foundation of faith in God.
Empowering people to live out their purpose.
Fellowship and unity with others.
Fanning into flame the gifts within you.
Believing your gift will make room for you.
Upcoming and Recent Events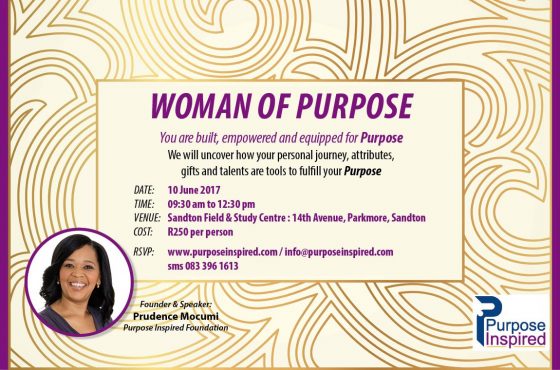 Recent from Inspired Series
As we are on the journey of discovering our purpose, we need to get closer acquainted with ourselves. Many of us do not take time out to look inside of us and see what are those things that we … Read More
Testimonials
Shalom Prudence, I feel the new grace at this new revelation of love. Yes! Amen
I praise the Lord for your life. Surely the Lord is speaking to me
Prudence Mocumi has taken me back to the reading of the Word of God. She has reminded me to seek God from the scriptures…
That is exactly what I needed. Grace and peace inside
Ms Mocumi is an authentic speaker who delivers truth with much sincerity
Join our Mailing list for updates